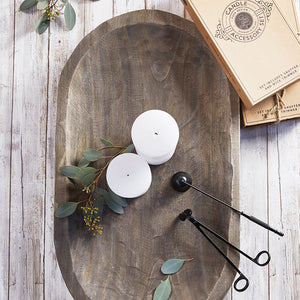 Bell Candle Snuffer & Wick Trimmer
Proper candle care is essential to the longevity of every candle. This modern farmhouse bell snuffer and its wick trimmer would look beautiful styled on a coffee table or tray and add a little bit of luxe to your space! Style on a stack of coffee table books with our safety matches in black or white. They also make the perfect holiday gift!
Dimensions: Snuffer & Trimmer about 8" L
Colour: Matte black 
Always trim your wick to 1/4" before candle is lit each time to avoid any soot, burn candle so wax pool reaches the jar edge each time to prevent wax tunneling, candle care kit tools are to be used by adults only. Use caution when snuffing out flames. Wick trimmers are scissors and have sharp blades - use with care.