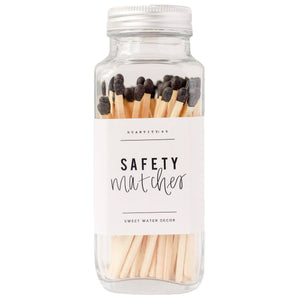 Black Safety Matches
Style these matches on your coffee table or nightstand beside your favourite candle for the season! Modern & chic, these matches add to your decor and are really perfect for any space. Pair them with our silver or black candle care accessories. They also make the perfect holiday gift.  
Dimensions: 3.75" match sticks, approx. 60 matches per jar. 5 

⅜ x 2 x 2" glass jar

Materials: 

 Glass jar

Strike match on strike pad on jar to light. Handle matches with care. Close bottle before striking the match. Keep out of reach from children. Keep away from hot surfaces and flames.